Community Service and Involvement
Doug Glanville is active in his community by focusing on mentoring, transition, education, and diversity for organizations that advance the lives of those at risk.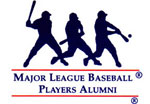 MLB Players Alumni Association
Board Member
The Major League Baseball Players Alumni Association (MLBPAA) was formed in 1982 in order to promote the game of baseball, raise money for charity, inspire and educate youth through positive sport images and protect the dignity of the game through former players. A nonprofit organization, the MLBPAA establishes a place where a player's drive for excellence and achievement on the field can continue long after they take their last steps off the professional diamond. Doug is an active board member for the MLB Players Alumni Association where he helps players transition from the game of baseball to the game of life. (mlbpaa.mlb.com)
 
Dr. Cecil E. Glanville Memorial Scholarship Fund
Founder
In honor of his late father's death in 2002, Doug Glanville and his family established the Dr. Cecil E. Glanville Memorial Scholarship Fund, administered by the Presbyterian Church of Teaneck, NJ. The scholarship is awarded by the Presbyterian Church of Teaneck and the Glanville Family and is presented to academically achieving high school graduates who are active members of the Church. This scholarship fund provides necessary resources to qualified students to enable them to attend college.
Dr. Glanville, a member of the Presbyterian Church of Teaneck for over thirty years was a dedicated Psychiatrist, family man and community activist. He served and counseled many young people as the Chairman of the Youth Guidance Council of Teaneck for over twelve years. His family and friends are proud to perpetuate his legacy through his memorial scholarship fund.