About Doug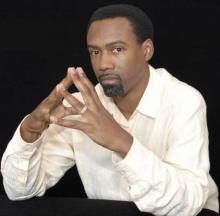 From Ivy League to Major League, Doug Glanville Speaks To All Walks of Life
Doug Glanville is a rare breed—a combination of outstanding athletic ability, intellect and down-to-earth ease that makes him relatable to people from all walks of life. "The ability to convey a message that connects with a diverse audience of listeners is pure gold," explains Glanville, a former Major League Baseball player who now shares his experience and knowledge through books, speaking engagements and sports commentary. He is understandably proud of the ventures he's undertaken since leaving the big leagues, particularly because he is one of a select group. "There are few high-performance athletes who can rest comfortably in so many spaces and communicate their experience in a tangible, accessible, and relatable way," he elaborates.
As the author of much-praised book The Game From Where I Stand, and a frequent contributor to the New York Times and Time.com, as well as a former ESPN analyst/commentator, Glanville offers insight about baseball and how the sport translates to everyday life. Part of his mission is to bring together different kinds of people and create understanding among them. His unique background is one of his best tools in this effort.
"My worldview is shaped by the idea of bridge-building, diplomacy and creating understanding in a thoughtful and patient way," says Glanville. "In that experience, I learned to relate to a diverse swatch of vantage points, be it from religious, political, ethnic, cultural or from any other perspective."
This unique worldview began when he was growing up in Teaneck, New Jersey, where brother Ken's training put him on a fast track to the major leagues. At home, Glanville's life was influenced by his father, a native of Trinidad and Tobago who came to the United States in the early 1950s seeking opportunities.
Ever the thinker, Glanville chose to earn a college degree before committing to baseball full time. He graduated from the University of Pennsylvania with a degree in engineering. By 1996 he was playing as an outfielder for the Chicago Cubs. When his retirement came after nine seasons in the majors, he had accumulated 1100 hits and a 293-game errorless streak.
During his baseball career, Glanville experienced wide-ranging highs and lows, from first-round pick to disappointment, from injury to comeback kid. After retirement, he wanted to share these valuable life lessons with others. "So I began my march at being a significant voice in baseball," he recalls. "And I found that the issues were truly universal, they transcended sport; they were stories of the human condition."
Writing, commentary and public speaking are a few of the ways Glanville tells his story. In 2010 he released the book, The Game From Where I Stand, where his experiences in the big leagues capture the human side of the game. With insight and humor he shares what he learned from fellow star players including Jimmy Rollins, Alex Rodriguez, Randy Johnson, Barry Bonds and Curt Schilling. Glanville shows how athletes prepare for games, deal with race and family issues, and cope with streaks and slumps. The lessons carry over into real-life scenarios, especially imaginative ways to find common ground. "It is not a book about baseball, it is a book about life, through the example of baseball," he states. "This explains why the positive feedback I have received comes from players, coaches, umpires, fans, fathers, daughters, wives and general managers alike. You don't have to know a single rule about baseball to feel my book."
The Washington Post agreed in a review, "He saw himself the way you would if you made the majors: full of self-awareness and humanity, traits that are otherwise in short supply in the VIP-treated, image-conscious world of pro sports. Glanville is a witty, insightful writer, and his detailed descriptions of the unseen banalities and secret vanities of the baseball life—how players pass the time during rain delays, the proper way to pack an equipment bag after you've been cut, the admission that players practice signing their autograph—are sometimes riveting and often amusing."
Glanville's career as a writer and analyst includes work for ESPN and The New York Times. He has also contributed to XM Radio, Comcast SportsNet Chicago and TIME.com. "I found this kind of work was remarkably reciprocal if not therapeutic," shares Glanville. "It came back to me tenfold through opportunity, with experts adding to the dialogue while shifting perceptions. My articles were not just stopping at the last period, but were getting carried to new places; readers were filling in all of the blank space beyond that last period and making my words have impact."
His motivational speeches have been equally impactful. His sessions on self-empowerment, diversity, drug policy, baseball culture, finding common ground, retirement, parenting and more have been well-received nationwide. The messages can be applied to groups of all sizes and ages, ranging from commencement addresses to senior clubs. Tailoring each speech to its audience helps make it relatable. His down-to-earth demeanor combined with his soaring success helps listeners dream bigger dreams. "Magic and inspiration is much more powerful when we come to know that the person creating it is just like us, he was the boy next door or she was the girl you had a crush on," Glanville believes. "This gives everyone a sense of great possibility."
Glanville strives to bring possibility to his community and beyond. He is a board member of the Major League Baseball Players Association. Glanville is active in the community where, among other things, he is committed to improving community policing and raising the quality of public education through school equity and enhanced programming to support students of diverse backgrounds and educational needs. The Cecil E. Glanville Scholarship Fund, founded in memory of his father, helps qualified students attend college.
"I have a unique opportunity to be the pivot point between sports and people," he sums. "Because the simplest rule of all is that we are all people. Connecting sports and people, without making the magic go away due to a dose of reality, is where the true artistry lies. That is my strength."