Baseball Career
Doug Glanville in the Major Leagues
Doug's baseball career began in Teaneck, New Jersey with the lessons from his brother Ken. With an organized program to baseball success, Ken outlined the key steps to make a major league baseball player. Doug began with Wiffle Ball and passed through an intimate knowledge of the Strat-O-Matic baseball game before arriving at Wrigley Field in 1996 on Ken's program.
After a solid high school career and All-State honors at Teaneck High School, he told pro scouts to "wait" so that he could embark on a college career at the University of Pennsylvania. There he was part of two championship teams amongst Academic and Athletic All-America honors as a junior. His college career was capped off by being selected in the first round by the Chicago Cubs in 1991.
His minor league career involved stops in the famous Carolina League as a member of the Winston-Salem Spirits where he hit his only professional Grand Slam. Everything came together in 1995 during winter baseball in Puerto Rico where he won the MVP award for the Mayaguez Indios. Carrying the momentum from that winter to the Cubs minor league season, he was rewarded with his first call-up to the big leagues on June 9th, 1996.
Here are some notable facts about Doug's career
1. Led the National League in At Bats in 1998 with 678
2. Second in the National League in Hits in 1999 with 204
3. Seventh in the National League in Batting Average at .325 in 1999
4. While active, was in the top 15 all-time for stolen base success rate for over 150 stolen bases
5. Maintained a 293 errorless streak over three years
6. Served on the Executive Subcommittee for the MLB Players Association
7. Had the game-winning hit in Game 3 of the 2003 NLCS as a member of the Chicago Cubs
8. Won the first Garry Maddox Community Service award in 2000 for the Philadelphia Phillies
9. Finished with exactly 1100 hits
Feel free to
drop Doug a note
with a memory of your own from watching Doug play. He would love to hear from you!
Personal Stats
Full Name:  Douglas Metunwa Glanville
Born:  August 25, 1970 in Hackensack, NJ
Position: Centerfielder
Bats: Right
Throws: Right
Height: 6' 2"
Weight: 175 lb.
High School: Teaneck HS (Teaneck, NJ)
College: University of Pennsylvania (Philadelphia, PA)
Drafted by the Chicago Cubs in the 1st round (12th pick) of the 1991 amateur draft.
Signed: July 18, 1991
MLB Debut: June 9, 1996
Teams (by GP): Phillies/Cubs/Rangers 1996-2004
Final Game: October 3, 2004
 
Career Stats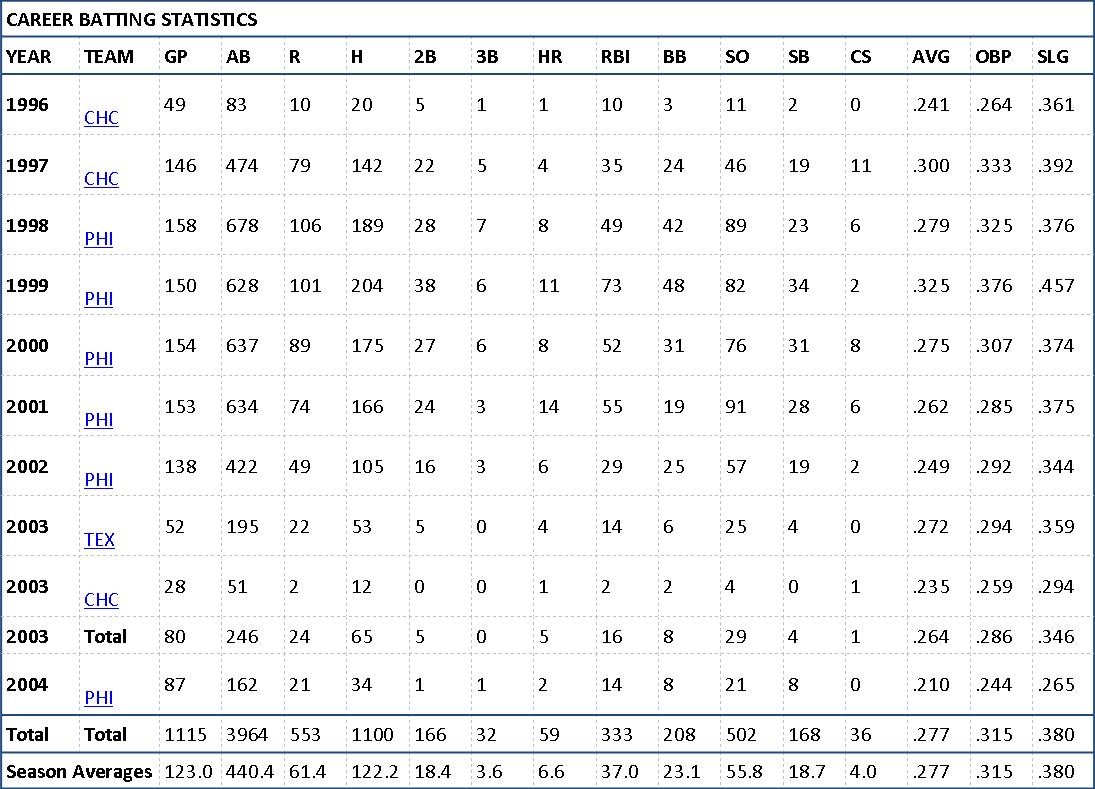 For a complete breakdown of Doug's stats, visit MLB.com.